Property Search
Find your warehouse home
With the first apartments now ready for immediate occupation at prices starting from £265,000 (subject to availability), it's time to act swiftly to secure your place in one of Liverpool's most prestigious developments. Scroll down to browse details and floor plans.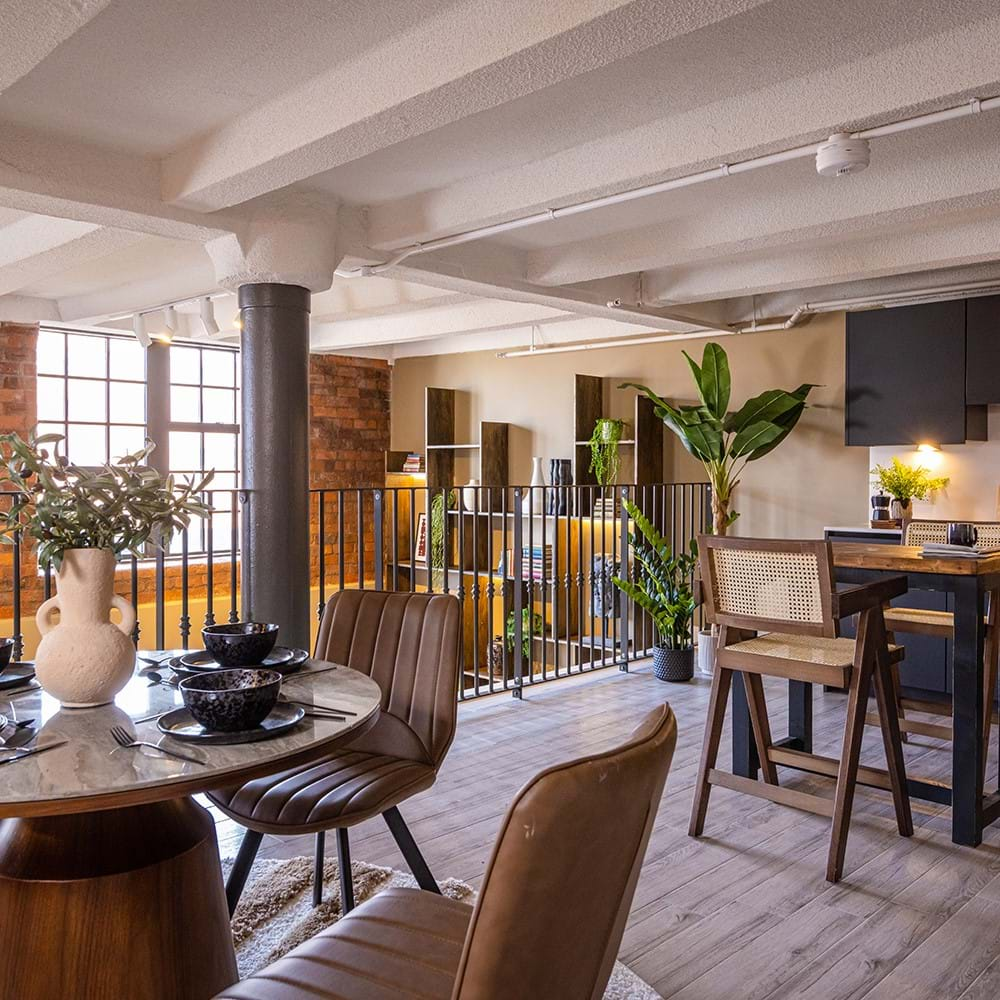 Fast Facts
Prices and charges
Apartment sizes 958 sq.ft - 2700 sq.ft 
2 & 3 bedroom duplex apartments & penthouses
Extensive views dockside, waterside & city
24-hour concierge & management team 
Apartment prices £265,000 - £610,000 
Parking £15,000 per space 
Leasehold 250 years 
Annual ground rent Peppercorn £0.00 
Service charge dependent on size of apartment – £1.59 p.a. per sq.ft. (2023 estimate)
Car parking charged separately
Energy rating (EPC) B
Reservation Fee £1,000 
Exchange deposit 10% less £1,000 reservation fee payable 28 days from receipt of contract
Please note prices and charges may be subject to variation over time
Aspects
Rooms with a view
Tobacco Warehouse offers three main views. All apartments are dual aspect, with views to an inner courtyard and externally to either Stanley Dock, the River Mersey, South Lane or city centre skyline.
Dockside
Your main view is across the still waters of Stanley Dock to the Grade-II* Victorian architecture of Titanic Hotel. Sample view
Riverside
Your main view is towards the River Mersey, with Collingwood Dock and the Gothic Revival clock tower in the middle ground. Sample view
South City
Your main view is over South Lane. Upper levels have superior views towards Pier Head and Liverpool's city centre skyline. Sample view
Search Apartments
| Apartment | View | Floors | Bedrooms | Sq ft / Sq m | Price | Status | Details |
| --- | --- | --- | --- | --- | --- | --- | --- |
| 1101 | South City | 1 & 2 | 2 | 1,733 / 161 | £ POA | Unavailable | View Details » |
| 1103 | South City | 1 & 2 | 2 | 1,141 / 106 | £ POA | Unavailable | View Details » |
| 1105 | South City | 1 & 2 | 2 | 1,157 / 107.5 | £ POA | Unavailable | View Details » |
| 1107 | South City | 1 & 2 | 2 | 1,152 / 107 | £ POA | Available | View Details » |
| 1109 | South City | 1 & 2 | 2 | 1,432 / 133 | £ POA | Available | View Details » |
| 1111 | South City | 1 & 2 | 2 | 1,276 / 118.5 | £ POA | Unavailable | View Details » |
| 1113 | South City | 1 & 2 | 2 | 1,146 / 106.5 | £ POA | Unavailable | View Details » |
| 1115 | South City | 1 & 2 | 2 | 1,146 / 106.5 | £ POA | Available | View Details » |
| 1118 | South City | 1 & 2 | 3 | 1,884 / 175 | £ POA | Unavailable | View Details » |
| 1119 | River Side | 1 & 2 | 2 | 1,701 / 158 | £ POA | Available | View Details » |
| 1121 | River Side | 1 & 2 | 2 | 1,340 / 124.5 | £ POA | Unavailable | View Details » |
| 1123 | River Side | 1 & 2 | 2 | 1,152 / 107 | £ POA | Unavailable | View Details » |
| 1125 | River Side | 1 & 2 | 2 | 1,534 / 142.5 | £ POA | Unavailable | View Details » |
| 1127 | Dockside | 1 & 2 | 3 | 1,884 / 175 | £ POA | Unavailable | View Details » |
| 1129 | Dockside | 1 & 2 | 2 | 1,136 / 105.5 | £ POA | Unavailable | View Details » |
| 1131 | Dockside | 1 & 2 | 2 | 1,141 / 106 | £ POA | Unavailable | View Details » |
| 1133 | Dockside | 1 & 2 | 2 | 1,023 / 95 | £ POA | Unavailable | View Details » |
| 1135 | Dockside | 1 & 2 | 2 | 1,620 / 150.5 | £ POA | Unavailable | View Details » |
| 1137 | Dockside | 1 & 2 | 2 | 1,141 / 106 | £ POA | Available | View Details » |
| 1139 | Dockside | 1 & 2 | 2 | 1,152 / 107 | £ POA | Unavailable | View Details » |
| 1141 | Dockside | 1 & 2 | 2 | 1,141 / 106 | £ POA | Unavailable | View Details » |
| 1143 | Dockside | 1 & 2 | 2 | 1,663 / 154.5 | £ POA | Unavailable | View Details » |
Book a viewing